Pontus de Tyard
(c. 1521 - 1605)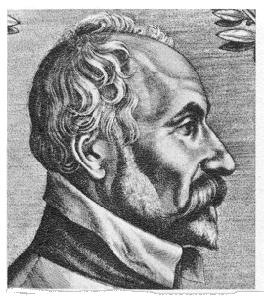 This entry was originally from the 1911 Encyclopedia Britannica.
French poet and member of the Pléiade, was seigneur of Bissy in Burgundy, where he was born in or about 1521.
He was a friend of Antoine Héroet and Maurice Scève, and to a certain extent anticipated Ronsard and Joachim du Bellay. His Erreurs amoureuses, originally published in 1549, was augmented with other poems in successive editions till 1573.
On the whole his poetry is inferior to that of his companions, but he was one of the first to write sonnets in French (the actual priority belongs to Melin de Saint-Gelais). It is also said that he introduced the sestine into France, or rather reintroduced it, for it was originally a Provençal invention.
In his later years he gave himself up to the study of mathematics and philosophy. He became bishop of Châlons-sur-Saône in 1578, and in 1587 appeared his Discours philosophiques. He was a zealous defender of the cause of Henry III against the pretensions of the Guises. This attitude brought down on him the vengeance of the league; he was driven from Châlons and his château at Bissy was plundered.
He survived all the members of the Pléiade and lived to see the onslaught made on their doctrines by Malhérbe. Pontus resigned his bishopric in 1594, and retired to the château de Bragny, where he died on the 23rd of September 1605.
His Oeuvres poétiques may be found in the Pléiade française (7.875) of M. Ch. Marty-Laveaux.
Pontus de Tyard's signed copy of Petrarch