Dietrich Buxtehude
(1637-1707)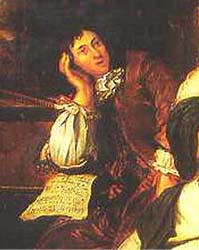 Having been born half a century after Heinrich Schütz , the "father of German musicians", and a little less than half a century before J. S. Bach , Dietrich Buxtehude -- born at Oldesloe, near Lübeck in 1637, died in Lübeck, May 9, 1707 -- was placed in the unique position of being a living link between the founder of Protestant Baroque music and its greatest master. The road leading from the Kapellmeister at the Dresden court to the organist of St. Mary's, Lübeck, and on to the cantor of the Thomasschule in Leipzig virtually signifies the progress of 17th century German music.
When interest in Buxtehude revived after a long period of oblivion his reputation as the most famous organist in Germany prior to Bach was the first fact to be remembered. The discovery that he was also an outstanding composer of sacred vocal music, and in that sphere of composition worthy to rank with Schütz and Bach, has only been made in the course of the last few decades.
All his life -- first in Helsingborg, later in Elsinore and finally for almost forty years in Lübeck -- Buxtehude was employed as organist. He was never a cantor, yet his interest in vocal music was profound. About 120 works of vocal church music have survived, most of them because they were collected by his friend Gustav Düben, a Kapellmeister at the court in Stockholm. Approximately 100 of these compositions were written from 1680 to 1687, the rest during the preceding thirteen years. Nothing is known about music written in the last twenty years of Buxtehude's life. Obviously a large number of his works have been lost, but available evidence shows that vocal music makes up a large proportion of his entire output. It must also be remembered that whilst Schütz and Bach produced music written for voices in the course of their official duties, Buxtehude's corresponding works were, with the possible exception of a few that may have been commissioned, expressions of spontaneous emotion. He used the scriptures as well as church hymns and contemporary or mediaeval sacred poetry as textual sources and treated them either in compact form or in various combinations.
His settings reveal Buxtehude's versatility and personality which made him the unrivalled master of his time. They also show a profusion of musical forms representing different stages in the development of the Spiritual Concerto, ranging from Schütz's Symphoniae sacrae to Bach's early cantatas and, in the case of chorales, from simple song-form to powerful elaborations of textual treatment. His extraordinary powers of imagination were undoubtedly assisted by the contemporary trend of adopting an unconstrained attitude in questions of musical form. Buxtehude was subjected to Schütz's influence through the latter's pupils C. Bernhard and M. Weckmann, as well as his predecessor in office and father-in-law Franz Tunder . There was, moreover, the more direct influence of Carissimi , acting through Vincenzo Albrici and Gioseppo Peranda, which proved a great stimulus to his pietistic inclination. These varied influences combined with Buxtehude's own passionate imagination, ardour and feeling constitute the elements of his unique personal style. His inventiveness is based on extraordinary simplicity. He had the rare gift of being able to transform a modest substance into a work of great art. Buxtehude's powers of imagination -- they may have been less sophisticated than those of the intellectual Schütz but certainly not less fervent -- were sparked-off by his text. The inherent poetry of words inspired him, and listeners will be struck by the resulting warmth, plasticity and irresistible force of his settings. It is surprising how much he achieved using simple devices like word-repetitions or a significant pause. His musical language alters with each new text.
To what extent Buxtehude's vocal church music is liturgical or extraliturgical is a matter of diverse opinion. Delimination of both types of music is difficult, especially in works written during the incipient stage of pietism. Certainly many of his compositions, especially those for solo voices, were meant to be of private devotional character and could be termed 'sacred chamber music.'