Thomas D'Urfey
(ca. 1653-1723 )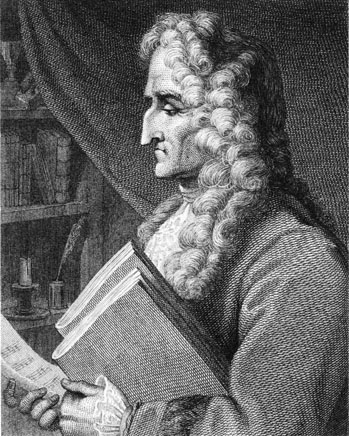 English popular poet and musician. Durfey (as he was known until 1683) was born in Devonshire around 1653. Although he claimed a family association with Honore d'Urfé, the author of L'Astrée, this claim has been questioned. It has also been claimed that D'Urfey's father or grandfather was a Huguenot who fled from La Rochelle in 1628, but there is no evidence for this.
Although some sources state that D'Urfey was trained in Law, documents of the time suggest that D'Urfey began work as a scrivener's apprentice. He turned almost immediately from that occupation to entertainment. His first play, The Siege of Memphis was staged in September 1676 and was a failure. However, in November 1676 he turned his efforts to comedy. Madam Fickle was produced at the Dorset Garden Theatre. Charles II and the Duke of Ormonde attended and Ormonde presented D'Urfey to the king. Despite a distinct stutter "except when singing or swearing" and a decidedly unhandsome appearance, Thomas D'Urfey became an intimate of Charles. Charles enjoyed his voice and his talent for composing witty songs, as well as his "good natured willingness to be the butt of a jest as much as the author of one" made him nearly a court jester as well as singer and songwriter for Charles. Except for a brief period in 1689 when he was a singing teacher at a girls school he served each succeeding monarch and many wealthy patrons.
D'Urfey's songs were of three types: political songs, court songs and country songs. His political songs invariably celebrated the monarch - from Stuart to Hanover. He wrote numerous political satires. His country songs were coarse and popular, dealing with common folk and their relationships. His words were set to music by Henry Pucell, John Blow, John Eccles and others - nearly forty composers in all. His songs were often labelled as vulgar - not without reason. One of his popular songs was The Fart; Famous for its Satyrical Humour in the Reign of Queen Anne. His musical reputation was one of carelessness, and his music did not enjoy a great reputation. D'Urfey did not deny it but stated that "irregularities disappear when his songs are sung." D'Urfey was also well aware that his music was looked down upon. "The Town may da-da-damn me for a poet," he said, "but they si-si-sing my Songs for all that." A friend of essayists Richard Steele and Joseph Adidson, D'Urfey often quarrelled with other poets of the time and was the subject of many less than flattering verses. His play Love for Money was attacked in a clever pamphlet Wit for Money: Or, Poet Stutterer. He was ridiculed for his pretensions. Despite a lack of funds he insisted upon being accompanied by a page and in 1683 added the apostrophe to his name to promote his association with aristocracy.
Thomas D'Urfey was one of the most prolific and popular poets and musicians of his age, famous for his comic skills. He entertained five monarchs and wrote over 32 plays and 500 songs. He published the several- volume work, Wit and Mirth: or, Pills to Purge Melancholy, which included his songs and others as well as older airs and ballads.