John Hebden
(1712-1765)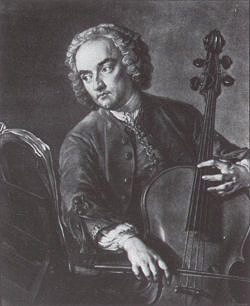 English composer baptized on July 21, 1712 at Spofforth, near Harrogate in Yorkshire, the son of 'John Hebdin' of Plompton. He was orphaned when young but was fortunate enough to receive an excellent education, including musical tuition. Hebden grew up in York and there in 1732 married Mary Preistland. They had a child, John, but Mary died while John was still young. Years later Hebden bequeathed money to be held in trust for his "ne'er do well" son.
Hebden was a professional bassoonist, gamba player and 'cellist and in the 1730s composed music for a small local professional orchestra containing "all the best Hands in Town". They gave many concerts at the York Assembly Rooms which were designed by Richard Boyle, 3rd Earl of Burlington, a patron of Handel.
In 1744, Charles Burney recorded him as being a musician in London, presumably when he was principal 'cellist and bassoonist with the orchestra at Vauxhall Gardens. He is also mentioned as a 'cellist and bassoonist in Pohl's list of virtuoso musicians in 1750.
His Six concertos for strings Op. 2 were undoubtedly highly regarded since their fame spread to Germany. The impressive list of subscribers to these works shows the high esteem in which Hebden was held by his musical contemporaries. The list includes fellow composers Arne, Boyce, Sammartini and Geminiani as well as the Earl and Countess of Burlington, the Devil and the Globe music club taverns in London, plus numerous organists and amateur and professional musicians. He is also known for his Six Solos for Flute and Harpsichord.