Carl [Karl] Ditters von Dittersdorf
(1739 - 1799)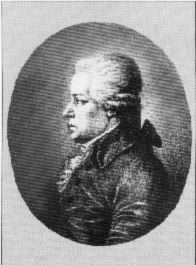 Composer and violin virtuoso; born Carl Ditters. Through service in Karl VI's army, his father had gained a position as costume designer in the imperial theater. In 1750 the boy Carl obtained a post as violinist in Vienna's Schottenkircheorchestra. Prince Joseph Friedrich von Sachsen-Hildburghausen noticed him and hired him for his court orchestra. There he studied violin with Francesco Trani and composition with Giuseppe Bonno; during this period he also became acquainted with Haydn and Gluck. In 1761 he was made violinist for the imperial court theater, and in 1763 he traveled to Bologna with Gluck.
After a salary dispute with the imperial theater in 1764, Differs took a post as Kapellmeister for the court of Adam Patachich, Hungarian nobleman and Bishop of Grosswardein (Oradea, Romania). There he composed mostly church music and Schuldramen; he lost his job in 1769 when Empress Maria Theresa denounced the bishop. The following year he met Schaffgotsch, Prince-Bishop of Breslau, who wished to start a musical establishment at his court at Johannisberg (near Javorník, Czechoslovakia), In 1770 or 1771 Ditters accepted the post as court composer; this employment formed the center of his creative activities for the next twenty years. He composed symphonies, chamber music, and opere buffe. In 1773 the prince made Ditters Amtshauptmannof nearby Freiwaldau, one of several measures to help entice the cosmopolitan composer to remain at the isolated Johannisberg; since this new post required a noble title, Ditters was sent to Vienna to become, for a fee, von Dittersdorf.
From the early 1780s Dittersdorf began making frequent appearances in Vienna: in 1784 or 1785 six of his twelve programmatic "Ovid" symphonies were performed in the imperial Augarten, and in 1786 his oratorio Hiob was performed at a benefit for the Tonkünstlersozietät. His breakthrough came in 1786, when his comic opera Der Apotheker und der Doktor became a huge success in Vienna and quickly traveled to nearly every major theater in Europe. In the wake of its success he composed eight more German comic operas during the next five years, four of which achieved international fame. In 1789 he traveled to Berlin, where Friedrich Wilhelm had him mount extravagant performances of Hiob and Apotheker.
In 1794 Dittersdorf began composing comic operas for a small Silesian court theater at Oels (now Olésnica, Poland), which were mounted by the Weimarbased Waeser troupe. At the same time he experienced a falling-out with Schaffgotsch, who finally expelled him from his palace; the composer was spared from utmost poverty by an offer in 1795 from Baron Ignaz von Stillfried to live at his spare castle in southern Bohemia. His final decade was occupied with overseeing operatic productions and with compiling and editing his own music for publication.
He composed some forty-five operas (Il finto pazzo per amore, Betrug durch Aberglauben, Die Liebe im Narrenhause, Das rothe Käppchen), sacred vocal music, at least 120 symphonies, chamber music (including string quartets), and keyboard music. His florid autobiography (Lebenbeschreibung, Leipzig, 1801) provides a valuable glimpse of the life of an 18th-century court musician.