Jean Antoine de Baïf
(1532 - 1589)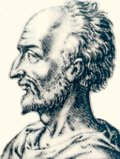 "Si d'un vent elle entend quelque sifflante haleine,

Par le feuillage épais des chênes se ployant,

Qu'il lui semble écouter les soupirs de ma peine."

Jean Antoine de Baïf, Les Amours de Francine
French poet, born in Venice as the illegitimate son of the humanist Lazare de Baïf, he enjoyed an exceptional humanist education. From the cradle he was entrusted to Ange Vergèce and Charles Estienne, then at the age of eightto Jacques Toussaint, professor of Greek to the Collège royal, before studying under the eminent hellenist Jean Dorat himself, who became his tutor at the same time as that of Pierre de Ronsard in the Baïf residence.
On the death of his father in 1547, Jean Antoine de Baîf succeeded Dorat at the Collège de Coqueret, of which he became the principal, and, where he joined Ronsard and later Joachim Du Bellay; united by common poetic and theoretical interests, the three school-fellows formed the Brigade, a literary society which later became the Pléiade.
Jean Antoine de Baîf discovered poetry in his youth and published, as early as 1552, a first collection of verses (Les Amours de Méline), clearly influenced by Petrarch, which was followed in 1555 by Les Amours de Francine, a more personal work but which was not recewived better than the first.
He supported himself for a time with a clerical benefice, then sought the support of royalty: as a tonsured clerk, under the protection of Charles IX , Baîf, with the assistance of the musician Thibault de Courville, established an academy of poetry and music seeking to promote the "poetry measured by the antique," its objective being to subject the two forms of art to the same laws of melody. Many composers collaborated with him, and his friends of the Pleiad, notably Pontus de Tyard, which nevertless failed.
Scholarly, inventive, innovative and eclectic, Jean Antoine aspired to revive traditional rhythms, thanks to a musical contribution due to a graeco-latin metre, thus reforming and playing with the orthography while being based on phonetics, as demostrated to a degree, in 1574, in his text entitled Étrénes of poézie fransoéze en ves mesurée, featuring many popular themes. It was, however, by celebrating the wedding of François II and Marie Stuart that he secured a pension, which was later renewed by Charles VIII and Louis XII. He thus became one of the poets laureate of Valois.
In 1572 Baïf published a new collection, Les Euvres en rime, a synthesis of his work since 1552, which reveals an author of very varied inspiration, a lover of untraditional forms, who entertained his contemporaries with his innovative spirit and his occasionally obscure language. Among the poems, one finds a variety of loves - for Francine, for Méline and others, Plays, among them a translation of Antigone of Sophocles in alexandrines, of Terence's Eunuque, The Brave Man, after Plato, a humanistic comedy that was to gain him great success when it was presented for the court in 1567, and the Passetems (a kind of collection of epigrams ), the whole adding up to not less than seven thousand five hundred verses of gnomic poetry
He was also a poet of spiritual sensitivities, as is testified by his Prayers (1587) drawn from the Book of Job, which he worked to translate into Latin and French for twenty years (1567-1587).
In 1576, under the influence of the current gnomic fashion, he published Mimes, enseignements et proverbes, a work which was republished frequently, and in which there is a notable progression towards the satirical.
Jean Antoine de Baïf died in Paris in 1589, four years after Ronsard. He remains the humanistic scholar, the authentic Renaissance man, marked for his vitality and his perpetual sense of curiosity.