Thomas Tallis
(c.1510--1585)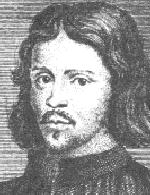 Relatively little is known about Tallis's life, particularly about his early years. He was probably born in Kent during the first decade of the sixteenth century. When we first hear of him, in 1532, he is organist of Dover Priory, a small Benedictine monastery consisting of about a dozen monks. We do not know whether Tallis's duties were restricted to organ-playing, or whether he also had the opportunity to work with professional singers. The more affluent monastic houses of the period certainly endeavoured to participate in the fashionable cultivation of elaborate church music by employing a small choir of professional lay singers; such a choir, which was quite distinct from the monks' own choir, would usually have performed in the Lady Chapel of the monastery, because this was often the only part of the monastic church to which the laity had access. Dover Priory, however, was far from wealthy--in the early 1530s its annual income was about £170, less than a tenth of that of a major Benedictine abbey such as St Alban's--and it can hardly have been in a position to spend lavishly on music. On the other hand, the fact that the priory employed a lay organist at all could be taken to imply quite a serious commitment to music. In addition, Dover was a cell or dependent house of Canterbury Cathedral, which was itself a Benedictine priory. The cathedral had a long and lively musical tradition involving not only the maintenance of a professional Lady Chapel choir but also the encouragement of the monks' own musical talents; it seems quite possible that this could have assisted the exploitation of music at Dover. Even so, any choir available to Tallis at Dover Priory must surely have been tiny--perhaps solo voices on each of the lower lines and three or four boys at the top of the texture.
Tallis embarked upon his musical career at a time when the culture of church music in England was at its zenith. A remarkably large number of religious foundations--royal and aristocratic household chapels, cathedrals, collegiate churches, the larger monasteries, even parish churches--were assiduously cultivating choral music of a particularly elaborate, colourful and virtuosic kind. Standards of choral singing in England seem to have been extremely high, and were applauded by observers from abroad, even though the idiom of English music might have seemed old-fashioned to anybody familiar with the work of Josquin. The culmination of this style was probably reached in the mid-1520s, when composers such as John Taverner, Nicholas Ludford, Richard Pygott and Hugh Aston infused into the established style a new sense of discipline and drive. Possibilities of change were, however, already in the air: by the late 1520s some composers were beginning to experiment with a more sober musical style which placed greater emphasis upon audibility of text and clarity of design rather than upon richness of sound and profusion of ornament. It is tempting but probably too glib to interpret such experiments as having been motivated exclusively by religious--let alone by Protestant ideas; the motivation could have been partly or even purely musical, for it is difficult to see how the florid style of the 1520s could have developed except through quite radical change. On the other hand, church music could hardly have failed to be affected by the reformist ideas that the government found it expedient to tolerate through most of the 1530s, at least until the king himself laid out a very conservative religious position towards the end of the decade. For young composers like Tallis the times must surely haw been both stimulating and confusing.
There seems to be no record of Tallis's departure from Dover, but the priory itself was dissolved in the autumn of 1535, very soon after it had been visited by the king's commissioners. This could indicate that something was seriously amiss; before the government's scheme for dissolving the smaller monasteries was put into general operation in 1536, only the most indigent, corrupt or otherwise decrepit houses were closed down immediately following an official visitation. We next encounter Tallis in 1537-8 in London, where he is employed (it is not clear whether as a singer or as organist) by the parish church of St Mary-at-Hill in Billingsgate, a little to the west of the Tower of London. Robert Okeland or Hockland, later to be one of Tallis's colleagues in the Chapel Royal (the religious department of the royal household, including both clerics and musicians), had been organist of St Mary's in 1534-5. St Mary's seems to have been one of the most enterprising London churches in its promotion of music: it had bought a new organ in 1517-18, by the mid-1530s it was maintaining a choir capable of singing music in five parts, and its repertory included Masses, antiphons, music for the Lady Mass, and 'carolles for cristmas.' London, with its teeming social, religious, intellectual and commercial activity, and its proximity to the main centres of government and patronage, must surely have been a far more stimulating environment than Dover. Some four miles south-east of St Mary's lay the royal Palace of Greenwich, Henry VIII's favourite residence during the latter part of his life; Tallis may well have come into contact with the singers of the Chapel Royal and the chamber musicians of the king and queen, some of whom owned or rented property in Greenwich or in the city. He may even have met some of the Chapel Royal singers in a professional capacity: several times during the 1510s and 20s some of them had sung at St Mary's on major feast days, and it is possible that this practice continued in the 1530s.
Whatever its attractions, London proved to be only a staging post for Tallis. It was probably in the autumn of 1538 that he moved to the Augustinian abbey of Holy Cross at Waltham in Essex; the closeness of the abbot's London house to the church of St Mary-at-Hill may help to explain this move. With a yearly income of some £900 Waltham Abbey was well able to maintain a Lady Chapel choir; in the late 1530s this consisted of about half-a-dozen boys and probably a similar number of men, among whom Tallis was evidently one of the most senior. If the prospect of long-term security had lured Tallis to Waltham, his plans soon went awry. In the very same year that he moved to the abbey the government embarked on the dissolution of the greater monasteries; on March 23, 1540, Waltham became the last English abbey to be dissolved. Because Tallis had joined the staff only recently he was not awarded a pension; instead he received 20s in outstanding wages and 20s 'reward'. Reflection on this phase of Tallis's life may be instructive to those who use hindsight uncritically. It is tempting for us to see the course of the English Reformation as having been inevitable and predictable; yet here we observe Tallis, who was presumably as capable of sensing what was in the wind as any other professional musician in London, making a career move that would bring him to a dead end some eighteen months later. In fact, during the late 1530s and early 1540s government policy on religion was astonishingly unpredictable and sometimes contradictory, and this must have had an extremely unsettling effect on church music.
One might expect that in 1540 the prospects of re-employment for a redundant church musician would have looked decidedly bleak. Paradoxically, however, the dissolution of the monasteries itself created some attractive opportunities. About half of the cathedrals of medieval England--Bath, Canterbury, Coventry Durham, Ely, Norwich, Rochester, Winchester and Worcester--had been Benedictine priories. When these were dissolved most of them were promptly refounded as secular cathedrals, and in their new guise they were equipped with larger professional choirs than they had ever been able to maintain during their monastic existence. As a native of Kent and a former organist at Dover Priory, Tallis may have been able to pull a few strings at Canterbury, which had been surrendered to the Crown on April 4. At any rate, his name is given pride of place among the lay-clerks in an undated list of recruits for the new choir that seems to have been drawn up in the summer of 1540. Consisting of ten boys and twelve men, the choir was clearly designed to be worthy of England's mother-church. Here Tallis was a senior member of an ensemble probably at least twice as large as any to which he had hitherto belonged. He was a member of this choir during what must have been a very busy period while it rapidly built up an impressive and markedly conservative musical repertory. It is interesting to note that during the early 1540s Canterbury was a centre of fierce religious controversy: while the archbishop, Thomas Cranmer, was a leading advocate of religious reform, several influential members of the cathedral chapter were staunchly traditionalist (they were soon to attempt to prosecute their archbishop for heresy).
Despite this excitement--or perhaps because of it--Tallis stayed at Canterbury for only two years. In 1542 he was appointed a Gentleman (that is, a singer) of the Chapel Royal; he may have owed his good fortune to Archbishop Cranmer, who had become one of the king's most trusted counsellors. The exact date of his appointment is not known, but his name occurs about half-way down the list of gentlemen (or singers) of the chapel in the lay subsidy roll of 1543/4. Tallis had now risen as high in his profession as it was possible to rise, and it is no surprise that he remained a member of the Chapel Royal for the rest of his life, rising in seniority until he became its acknowledged doyen. Even if he had desired to make another career move, the opportunities for doing so were shortly to become extremely limited because of the wholesale disbanding of church choirs that occurred during the reign of Edward VI (1547-53). Tallis may well have served as organist of the chapel throughout his membership of it, although he was not given this title until the 1570s. Apart from playing the organ, Tallis's main duty during his early years in the royal household chapel was probably the composition of music. In about 1552 he married--an action often postponed until a man felt that he had achieved stability--but it appears that he and his wife Joan did not have children.
The fruits of coöperation,the continuity of the tradition and its further development, were made evident to the cultivated world by the joint publication, by Tallis and William Byrd, of their Cantiones Sacraein 1575. It was a quasiofficial publication, dedicated to the Queen with a tribute to her musical skill 'vel vocis elegantia, vel digitorum agilitate,'by the two organists of her Chapel Royal, the Anglican ritual of which impressed foreigners and was so offensive to Puritans. This was the seventeenth year of the Queen's reign, so there are seventeen compositions by each composer, in compliment to her. The Latin poems prefixed to it by dear Mulcaster and a talented amateur of the Queen's Household, Sir Ferdinando Heybourne--whom we can still see today on his tomb in Tottenham parish church--make it clear that this was a manifesto to the musical world of Europe. Its spirit was comparable to the intention of Sidney and Spenser in literature: a declaration that a new power had arrived in music. The printing press enabled English music, hitherto hidden, to be brought to light. Heybourne, Tallis's pupil along with Byrd, specifically states the claim of these leaders of English music to take their place along with those abroad, Lassus, Gombert and Ferrabosco.
All was naturally in Latin, though the words of the motets eschewed the controversial (excrescences in honor of the Virgin Mary, for example--one Virgin was enough). Tallis revealed himself the master of the older traditional style; Byrd, with his Emendemus in melius,the greater genius that he was so richly to fulfill. The relationship of master and pupil was close and affectionate; Tallis became godfather of Byrd's son, Thomas. The two musicians, in addition to their appointments, the various leases they enjoyed which gave them a modest prosperity, were now rewarded by the grant of a monopoly of music-printing for twenty-one years. Though Byrd was the greater composer, Tallis has always been the household name, because of the familiar place his music has held in the regular liturgy of the Church. In hundreds of churches all over the country Anglicans sing his Preces and Responses at matins and evensong, his chants and hymns, his litany.
Both composers were more inspired by the Latin rite and continued to compose for it, in addition to their Latin motets and English work for the national Church. Tallis wrote at least three Masses--most of a 7-part Mass has only recently been recovered. Two very fine Lamentations we owe to the religious change--the pre-Reformation Church did not set Lenten texts. His gigantic 40-part motet Spem in alium--really for five choirs of eight voices--is a tour de force. One is struck by the statuesque effect of this mountain of a work, not much inner movement is possible in such a lay-out; but the whole gives the effect of a sea of sound, a surge of prayer and propitiation. Tallis was as deeply religious a spirit as Byrd, in such works more austere, though he was capable of tenderness. There is a certain majesty in his work; one hears it in a motet like Loquebantur variis linguis,with its symbolism: 7-part, seven-tongued, it is written for vespers at Pentecost, with wave upon wave of Alleluias, the waves reaching up out of the sea of faith, surging and withdrawing until the last whisper upon that unrecapturable shore. Without their music we cannot feel what those people felt about life; with it we can.
In his settings of the Psalms in free and elaborate chant-form Tallis carried over from the Latin to the English use. He adapted some of his Latin motets into English anthems of sober beauty. His were the finest tunes contributed to Archbishop Parker's Psalter; that they are still a source of inspiration is clear from Vaughan Williams' Fantasia upon one of them. Tallis's prime work was vocal, but he was an all-round musician, composing in other genres, though much of it is lost. There survive various secular part-songs in English, crisper like the language. For stringed instruments there are only two 'In nomines';two 'Felix namques'--organ interludes often played during the offertory at Communion--attest his virtuosity as composer for the keyboard, with their coruscating flourishes and runs. Since these two forms are peculiarly English their derivation may be explained. The 'In nomine'plainsong tune is that to the words In nomine Dominiin Taverner's Gloria Tibi TrinitasMass. It became a tradition among English composers to use this as a theme upon which to write variations, a test of virtuosity, ingenuity and imagination. No less than 150 sets of such variations survive; even a composer as late as Purcell wrote one. Milton's father composed an 'In nomine'of 40 parts, to show off his amateur expertise, for which Count Laski awarded him gold chain. The 'Felix namque'tune came from the offertory for the Vigil of the Assumption, and was only less popular for variations. Variations for keyboard music later became a strongly marked feature of the English school.
Tallis died, an old man, in 1585 having done his work for which the Church of England has always held him in honor: he had piloted her music safely through the transition and laid the foundations of English Church music. He is buried in the church of St. Alphege at Greenwich, near the palace where he had so often performed. In his will he left £3.6s.8d. to 'my company the gentlemen of Her Majesty's Chapel towards their feast.' Anthony Roper was to have his gilt bowl, William Byrd his large gilt cup. Richard Cranwell of the Chapel took loving care of Tallis's widow; when she came to die, specifically reciting the Protestant doctrine of salvation through the merits of Christ, she left Cranwell most of her quite comfortable possessions. The moiety of the music printing monopoly was left to the godson, Thomas Byrd. Everything shows the entire confidence and good feeling within this devoted circle. By the time of his death in 1585 he had become the doyen of English music: a composer of immense and greatly varied experience, the mentor and business partner of William Byrd, and a link with a past that was rapidly receding beyond men's memory. He had been born about a hundred years after the death of Chaucer; he died a hundred years before the birth of Handel.