John Stanley
(1713-1786)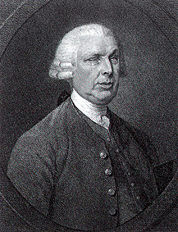 English composer born in London on January 17th, 1712 and baptised at the church of St. Swithin, London Stone two weeks later on February 1st. He was one of six children born to his father, also John Stanley (an Officer at Swithin's Lane Post Office) and his wife Elizabeth (née Davy), who had married on June 17th, 1707. When two years old the future composer had a domestic accident which left him almost blind; he could apparently still distinguish colors and possibly some shapes.
At the age of seven he began studying music with the organist John Reading but the teacher/student partnership was not fruitful. However, under the guidance of Maurice Greene -- composer and organist at St. Paul's Cathedral -- he studied "with great diligence, and a success that was astonishing" (Burney). In fact, so outstandingly well did the young Stanley advance that at the age of nine he played the organ (probably as an occasional deputy) at All Hallows, Bread Street.
The organist at All Hallows at that time was the composer and harpsichordist William Babell, a former pupil of Handel. Babell died on September 23rd, 1723 and exactly one month later the Flying-Post of October 24-6 reported that "by a considerable Majority" of the 66 electors present the eleven year old Stanley was appointed organist to the church at a salary of £20 per annum. The St. James's Evening Post reporting the event stated that Stanley "is become the Surprize of the Town for his ingenious Performance on the Harpsichord and Organ; and, in the opinion of good Judges, bids fair to equal, if not exceed the Merit of his celebrated Predecessor."
At the age of fourteen "in preference to a great number of candidates" (Burney) he was chosen as organist at St. Andrew's, Holborn and at the age of seventeen became the youngest person ever to obtain the BMus degree at Oxford University. In 1734 he was appointed organist to the Society of the Inner Temple - a position he held until his death. It was at the ancient Temple Church that his brilliant playing upon the organ and harpsichord attracted the attention of many fine musicians including Handel who regularly visited the church to hear him. Stanley was also an outstanding violinist and led the subscription concerts at the Swan Tavern in Cornhill and at the Castle Tavern in Paternoster Row.
Stanley married in 1738 Sarah Arlond (daughter of Captain Edward Arlond of the East India Company) who brought him a dowry of £7,000 per annum. They lived at first in Walbrook. Sarah's sister Ann, who at this time lived with them, became the blind composer's amanuensis. The Stanleys moved house in 1751 to Hatton Garden, opposite the home of the musical historian John Hawkins. Stanley and Hawkins became good friends and Hawkins later supplied many of the texts for Stanley's solo cantatas.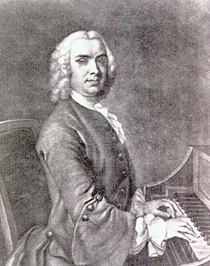 Stanley had a remarkable memory which helped him direct many of Handel's oratorios and to enjoy music-playing and card-playing with many of his friends. If he had to accompany a new oratorio he would ask his sister-in-law to play it through just once - enough to commit it to memory. He found time to teach, to play the organ at the Vauxhall Pleasure Gardens and was often first choice to play at charity events and at the launch of any newly built church organs.
Stanley's oratorio Jephthah was first performed in 1757.
After Handel's death in 1760, Stanley began a partnership with the composer John Christopher Smith in order to continue with performances of oratorios at Covent Garden. This successful partnership was to last for some fourteen years. For the first season Stanley composed Zimri.He usually played the continuo part during performances and a concerto during the intervals.
In 1760 he composed an ode, first performed at the Drury Lane Theatre, in memory of the late King George II and as homage to George III. On the occasion of the King's wedding in 1761 he composed the dramatic pastoral oratorio Arcadia.
In March 1770 Stanley was elected a governor of the Foundling Hospital. He took his responsibilities very seriously and attended many of the quarterly meetings, especially those affecting the Chapel and anything to do with the children's musical education. He gave advice on such things as the employment of music teachers at the hospital and also helped to organise some of their annual fund-raising concerts of Handel's Messiah. He conducted the performances himself from 1775 until 1777.
Stanley's oratorio The Fall of Egypt was given its first performance in March 1774. The London Chronicle of 22-24 March 1774 gave the following account: "Last night the new Oratorio, called The Fall of Egypt, written by the late Dr. Hawkesworth, and composed by Mr. Stanley, was performed for the first time at Drury-lane Theatre, and received with great applause. The Airs were composed with great taste and sweetness, and the Choruses were esteemed inferior to none, in point of sublimity, but Handel's."
Stanley's Six Concertos for Organ were published in 1775 -- number 4 being described by the English writer on music Charles Cudworth as "probably the finest of all English organ concertos."
In 1779 Stanley succeeded William Boyce as Master of the King's Band of musicians. In this capacity he composed many New Year and Birthday odes to the King; unfortunately this music has not survived. Stanley's last work was probably an ode written for the King's birthday (June 4th, 1786). Stanley never heard its performance -- he died at his home in Hatton Garden on May 19th, 1786 aged 74. Stanley's surviving relatives appeared to take little pleasure from his musical property -- his musical instruments and manuscripts were hastily auctioned at Christie's in London on June 24th, 1786.
Stanley's surviving compositions are: Op. 1 Eight Solos for Flute and Continuo (1740). Op. 2 Six Concertos for strings (or organ & strings or flute & continuo). (1742/1745). Op. 3 Six Cantatas. (1742) Op. 4 Six Solos for Flute and Continuo (1745). Op. 5 Ten Voluntaries for Organ (1748). Op. 6 Ten Voluntaries for Organ. (1752). Op. 7 Ten Voluntaries for Organ (1754). Op. 8 Six Cantatas (1751). Op. 9 Three Cantatas (1751). Op. 10 Six Concertos for Organ or Harpsichord. (1775).
See also The European Magazine & London Review (1784) : Some Account of John Stanley, Esq.