Maurice Greene
(1696-1755)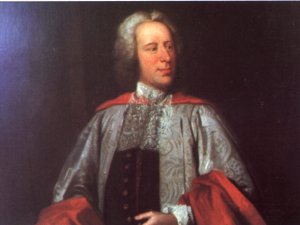 English composer born in London. His grandfather, John Greene (1616-1659), had been the Recorder in the City of London and his father, Thomas Greene (1648-1720), chaplain of the Chapel Royal and canon of Salisbury. Maurice Greene was the youngest of seven children and began his musical studies with Jeremiah Clarke and Charles King as a chorister at St. Paul's Cathedral. His voice broke at the age of 14 and his musical tutoring was continued under Richard Brind, the Cathedral organist.
In March 1714 he began his first musical post as organist at St. Dunstan-in-the-West, Fleet Street. In 1717 upon the death of David Purcell (brother of Henry Purcell) the situation of organist of St. Andrews, Holborn became vacant. Greene applied for the post together with seven other organists including Henry Purcell's only son Edward. On February 17th, 1718 the 'Housekeepers of the Parish' voted unanimously to appoint Greene as organist at a salary of £50 per annum. In the same year Richard Brind died and Greene succeded him as organist at St. Paul's Cathedral. In this post he was responsible for the music at the Cathedral services and also at the annual Sons of the Clergy festival, for which latter event he composed many of his orchestral anthems. About this time Greene married Mary Dillingham (1699-1767) who was a cousin of Jeremiah Clarke. Miss Dillingham and her sister kept a milliner's shop in Paternoster Row, just around the corner from St. Paul's Cathedral.
Greene was also a music teacher; John Travers, William Boyce and John Stanley were amongst his pupils. With Talbot Young (1699-1758) Greene was a founder member of the Castle Society. Though not formally established until 1724 this musical organization existed some years before and was to continue until 1783. Talbot Young was a violinist in the King's Band, a Gentleman of the Chapel Royal and "a thorough Master of Musick in general" (London Evening Post, 1st January 1730). At one stage John Stanley was involved with the Castle Society as its "chief supporter and director during many years" (Burney). The society's first meetings were held at the home of Talbot Young's father for the practice of music, but was later obliged to move to larger premises -- the Queen's Head Tavern in Paternoster Row -- and finally in 1724, further along the same street, to the Castle Tavern from which it took its name. Here on Wednesday evenings at seven o'clock up to 200 people crammed into the Tavern for an evening's musical entertainment. If anyone dared to "speak aloud, clap, hiss, or make other load noise, at, or during the performance" they were promptly fined 2s 6d. Greene also helped to found the Academy of Ancient Music. This society was formed to perform works of composers "such as lived before ye end of the Sixteenth Century". To perform music of that age in the eighteenth century was somewhat rare but the society also performed some contemporary music including much by Greene. The society's word-book of 1761 shows that over the previous thirty-five years works had been performed by, amongst others, Tallis, Palestrina, Byrd, Morley, Bennet and Lassus.
Greene was appointed as organist and composer of the Chapel Royal on the death of William Croft in 1727.
Greene had always admired Handel and in Greene's early days at St Paul's he invited Handel to play the great organ there. According to the musical historian Charles Burney, "from Greene's great admiration of Handel's manner of playing, he had literally condescended to become his bellows-blower, when he [Handel] went to St. Paul's to play on the organ.... Handel, after the three o'clock prayers, used frequently to get himself and young Greene locked up in the church together, and in summer often stript unto his shirt, and played till eight or nine o'clock at night." Greene became good friends with the then famous composer Giovanni Bononcini. Handel quarreled with Bononcini, and was annoyed that Greene remaining friends with him. In January 1731 Greene introduced a madrigal to the Academy of Ancient Music as being composed by Bononcini. It was later judged by many (but not by Greene) to have been composed by Antonio Lotti. For this deception Bononcini was immediately requested to leave the Academy and Greene promptly resigned. Greene had not acted improperly during the affair -- he acted in good faith throughout -- but nevertheless his association with it fuelled Handel's animosity towards him. Charles Burney recorded "For many years of his life, Handel never spoke of him [Greene] without some injurious epithet". This incident led to Bononcini and Greene setting up a rival society -- the Apollo Academy (named after the great Apollo Room at the Devil Tavern) -- whose music mainly centred on its three leading composers, Greene, Boyce and Michael Festing. This caused Handel to note that "Dr. Greene has gone to the devil!" Greene was in fact elected to the highest musical position in the land -- Master of the King's Musick -- following the death of John Eccles in January 1735. Greene, although not yet forty years old, now held all the major musical appointments in the country namely Organist of St. Paul's Cathedral, Organist and Composer to the Chapel Royal, Professor of Music at Cambridge University and Master of the King's Musick.
In 1738 the composer Michael Festing and two musicians Charles Weidemann and Thomas Vincent raised money amongst colleagues (including Greene) to found a "Fund for the Support of Decayed Musicians and their Families" which became known as the Royal Society of Musicians. Its main purpose was to relieve poverty of families of deceased musicians. Burney states that "Mr. Michael Christian Festing and Doctor Maurice Greene, took the lead at the time of instituting this Society, and for twelve or fourteen years afterwards". 1738 also saw the publication of 'The Chaplet', a collection of twelve English songs.
1743 saw publication of what many believe to be Greene's finest work -- his 40 Select Anthems. It attracted over 133 subscribers for a total of 281 copies. Handel refused to subscribe even though Greene, five years earlier, had contributed to Handel's Alexander's Feast.
In 1752 Greene inherited the ancestral estate of Bois Hall in Essex making him (for the first time) a wealthy man with an income of £700 per annum. It is assumed that some of this money was spent on a project very close to his heart; to collect church music, ancient and modern, and to present a copy of the finished collection to every cathedral in England. Sir John Hawkins described this undertaking thus: "Dr. Greene, considering the corrupted state of our Cathedral Music which by the multiplication of manuscript copies and the ignorance of transcribers was become so incorrect as that many of the services and anthems of which it consisted were scarce fit for practice, set for himself to reform and secure it from future injury. To this end he, some years before his death, set himself to collect all the written church music, whether in score or in parts that he could come at. What progress he made in the collection is not known, but it is certain that dying in the year 1755 Dr. Greene was disappointed in his hopes of giving to the world the work he had so long meditated and remitted to Dr. Boyce the future conduct and publication thereof by a bequest in his will of all his manuscript music." The composer John Alcock generously gave his own collection to Greene. According to Hawkins, Greene unfortunately did not live long enough to complete his wonderful project. What he bequeathed to Boyce amounted to the most magnificent music library in the country. Boyce carried on Greene's good work, which was eventually published in three volumes between 1760 and 1778 under the title of "The Cathedral Music". Composers represented in the collection include Tallis, Byrd, Morley, Purcell, Gibbons and Blow.
The Public Advertiser of Wednesday, 3rd December, 1755 stated "Monday night died, at his house in Beaufort Buildings, Dr. Maurice Greene, Organist and Composer to his Majesty, Master of his Majesty's Band of Musick, Organist of St. Paul's Cathedral, and Professor of Music in the University of Cambridge."