Johann Mattheson
(1681 - 1764)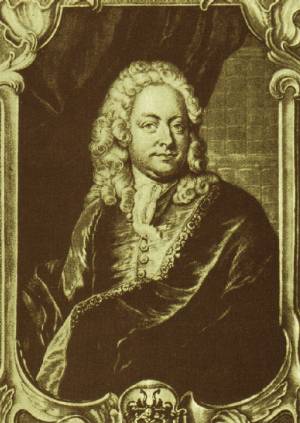 German composer, theorist, and lexicographer. He received a broad liberal arts education at the Johanneum, studying English, French, and Italian and receiving general music instruction from the cantor Joachim Gerstenbüttel. At 6 he took private lessons in keyboard instruments and composition from J. N. Hanff as well as singing and violin lessons from a local musician. By the age of nine he was a prodigy, singing and playing organ in Hamburg churches as well as performing in the chorus of the Hamburg opera. After graduating from the Johanneum in 1693, he served as a page at the court of Graf von Güldenlöw, then made his solo debut with the Hamburg opera in 1696 in female roles. After his voice changed, he sang tenor for the opera in addition to conducting rehearsals and composing operas (1697-1705). He met Handel in 1703 and the two became friends, journeying together to Lübeck that year to apply for the organist post at the Marienkirche vacated by Buxtehude's retirement; both turned down the position. The two remained close despite a violent argument in 1704 that led to a duel.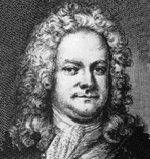 In 1704 Mattheson became the tutor of Cyrill Wich, son of the British envoy to Hamburg, Sir John Wich. Sir John appointed Mattheson his personal secretary in 1706, a position of considerable status and salary that he held for most of his life, serving Cyrill when he succeeded his father in 1715. Also in 1715 Mattheson became music director of the Hamburg Cathedral, for which he composed much sacred music, but he gave up the position in 1728 because of deafness. In 1719 he was named Kapellmeister to the Duke of Holstein, later becoming legation secretary (1741) and counsel (1744) to the duke.
Mattheson was a prolific composer up to the 1730s, especially of sacred music and opera, but much of his music has been missing since World War II. His literary writings constitute a large body of work (all published in Hamburg) that comments on nearly every aspect of music making in his day. Of particular interest is Der vollkommene Capellmeister (1739), containing a wealth of information for the Kapellmeister-in-training, including an attempt to systematize the doctrines of rhetoric as they apply to music. Of great historical importance is Grundlage einer Ehren-Pforte (1740), a biographical lexicon of 149 musicians; many of the entries were based on information provided by the subjects themselves. Other important writings include Das neu-eröffnete Orchestre (1713); the first German music periodical, Critica musica (1722-25); Der musicalische Patriot (1728); Grosse General-Bass-Schule (1731).