Nicholas Lanier (Lanière)
(1588-1666)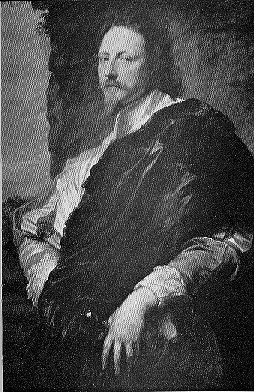 Nicholas Lanier c. 1625 by Van Dyck
English composer, lutenist, singer and painter. He was a descendant of a French family of musicians that settled in England in the mid-16th century. He served the Earl of Salisbury to 1607, and the Cecil family between 1605 and 1613 as a domestic musician. Lanier joined the King's Musick as Musician in Ordinary for the lutes and voices in 1616; in addition to his position as lutenist, Lanier was a singer, and performer on the viol. He was named Master of the Musick of Prince Charles in 1618, and in 1626 he became the first holder of the title 'Master of the King's Musick.' He was Singer in the King's Consorte 1625-42, and Groom in Ordinary for the Queen's Privy Chamber1639. It was Lanier who convinced the King to bring Van Dyck to England. His own portrait was painted by VanDyck and the work hangs in Vienna at the Kunsthistoiches Museum. Nicholas was sent abroad to acquire artworks for the King (see Gordon Callon's bio of Nicholas Lanier II) and he assembled a vast collection for the king-- all of which were later dispersed when Charles I was executed-- indeed, some of the paintings were purchased by Laniers, in order to save them-- his uncles Clement Lanier and Jerome Lanier bought several. John Evelyn, in his diary, noted seeing at "Old Jerome Laniere's, Greenwich, some pictures which surely had been the King's." Nicholas the Younger bought four of the paintings. Nicholas lost his position during the Civil War, but was restored by Charles II, serving as Musician in Ordinary 1660-66. He served as first Marshall (for life) of the Corporation for Regulating the Art and Science of Music.
Lanier performed in a Campion masque in 1613, and provided music for court entertainments, including the 1617 masque Lovers Made Men, the first appearance in England of the Italianate stile recitativo. This is lost, but some songs and occasional pieces survive in MS. As a composer, Lanier was recognized in his own day, and is chiefly remembered now as one of the composers who introduced this new style of Italian monody to seventeenth-century English music. He was unquestionably an important composer of music for court masques, especially those of Ben Jonson. Indeed, if we are to take Jonson's remarks at face value, he was the first English composer to write music for a masque that was sung throughout, and thus may be considered the beginning of a sort of opera in England--Jonson, in his introductory stage directions to Lovers Made Men, states, "the whole Masque was sung (after the Italian manner) Stylo recitativo, by Master Nicholas Lanier; who ordered and made both the Scene, and the Musicke." Jonson also mentions Lanier (along with Lanier's uncle, Alfonso Ferrabosco) as composer of music for his Masque of Augurs.
Lanier's character as revealed in his songs is somewhat aloof; elevated in serious vein, yet he can be charming in a rather old-fashioned way, especially in lighter songs. He show a penchant for lyrics that, for all their 'lily whites' and'blushing reds', are quite colorless.